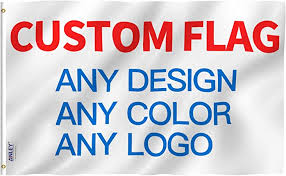 Custom Flag
Customize your own flag! 
3 x 5 ft any logo, color, or picture right on your flag!
Perfect for events, gifts, and all gatherings! Let everyone see your big waving custom flag!
100% custom flag of your choice
Vivid Color and Long Lasting Polyester
No minimum order!
Send your design to contact@beachtownflags.com and we'll make sure you approve of the design before you pay. We also offer custom design assistance. If you have an idea we'll put it on a flag and won't stop until you like it  !
*There will be about a 25 day processing time and roughly 3-5 business days to ship* 
*Shipping time changes to 10 day processing and 3-5 business days with order of 5*